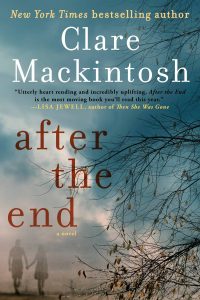 Max and Pip are the strongest couple you know. They're best friends, lovers—unshakable. But then their son gets sick and the doctors put the question of his survival into their hands. For the first time, Max and Pip can't agree. They each want a different future for their son.
What if they could have both?
Both utterly heart rending and incredibly uplifting, After the End is the most moving book you'll read this year (Lisa Jewell)
A beautifully written novel, compelling and clever, tender and true. I can't stop thinking about it (Liane Moriarty)
Such a perfectly poised novel, with authentic heart and depth, that examines the worst moments of our lives, and still somehow uncovers hope and the indomitable strength of the human spirit. Everyone should read this beautiful book (Rowan Coleman, author of The Summer of Impossible Things)
A powerful exploration of grief, love and the way in which all decisions – both large and small – can have life-changing results. (Jill Santopolo, New York Times bestselling author of The Light We Lost and More Than Words)
Clare Mackintosh takes us on a heart-rending, vivid journey through one of the toughest situations a parent could face – she's Britain's answer to Jodi Picoult (Lucy Atkins)
A gripping and propulsive exploration of love, marriage, parenthood, and the road not taken, After the End brings one unforgettable family from unimaginable loss to a surprising, satisfying, and redemptive ending and the life they are fated to find. With the emotional power of Jodi Picoult's My Sister's Keeper, Mackintosh helps us to see that sometimes the end is just another beginning.
Published on June 25, 2019

Buy Now!