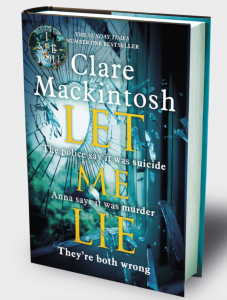 Let Me Lie: the stunning, twisty psychological thriller from number one bestseller Clare Mackintosh, author of I LET YOU GO and I SEE YOU.
The police say it was suicide.
Anna says it was murder.
They're both wrong.
One year ago, Caroline Johnson chose to end her life brutally: a shocking suicide planned to match that of her husband just months before. Their daughter, Anna, has struggled to come to terms with their loss ever since.
Now with a young baby of her own, Anna misses her mother more than ever and starts to ask questions about her parents' deaths. But by digging up the past, is she putting her future in danger? Sometimes it's safer to let things lie . . .
Published on March 8, 2018
Buy Now!