Every day until Christmas Eve I'll be introducing you to an author whose debut novel came out this year. Today it's Claire Askew.
About Claire Askew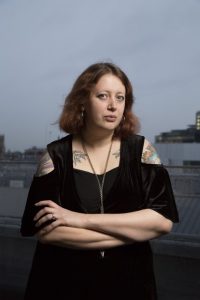 Claire Askew is a prizewinning poet, novelist, the current Writer in Residence at the University of Edinburgh and the Scotland tutor for women's writing initiatives Write Like A Grrrl! and #GrrrlCon. All the Hidden Truths is her debut novel.
Tell us about your book.
All The Hidden Truths is a literary crime novel that opens with a horrendous college shooting in Edinburgh, depicted through tweets, news reports, Wikipedia articles and online comments. The book spans six weeks in the aftermath of this tragedy, and three very different women – the mother of the gunman, the mother of the first victim, and the Detective Inspector who's handed the investigation – as they struggle to cope with this event's seismic effect on their lives.
Where did the inspiration come from?
Three days after my tenth birthday, Thomas Hamilton walked into Dunblane Primary School and opened fire on the students and staff there. Almost everyone in Scotland felt affected by this horrendous act of mass murder, but I think especially parents and teachers. I remember my own small Scottish primary school – and its atmosphere – changing almost overnight. The legacy of Dunblane can still be felt in Scotland, and the memory of those days immediately after the shooting have never left me. Many years later, I found myself working in a Further Education college, mostly with groups of young men who might be labelled "challenging." School shootings had become disturbingly commonplace in America, and I had begun to get frustrated at British media pundits saying things like, "that doesn't happen here." Working with young men who both knew violence intimately, and also struggled to express their emotions in healthy ways, I saw only too clearly how such an event could happen – again – in the UK. I decided I wanted to write a book that both recognised the unique lens through which Scottish people view tragedies of this type, but also sought to challenge the idea that mass shooters are outliers, anomalies. All The Hidden Truths explores the terrifying possibility that we might all be capable of such an act, under the right – or rather the wrong – specific set of circumstances.
Who would this book make the perfect present for?
Someone who's not afraid of a dark, twisty or complex crime story; someone who's interested in understanding how people react and respond under extreme circumstances. Fans of Kate Atkinson or Louise Welsh might particularly enjoy All The Hidden Truths.
What will you be reading this Christmas?
I'm not afraid of a dark read during the festive season: I'm looking forward to digging into Sarah Perry's Melmoth.
When you're not writing, what do you like doing?
I'm currently reading a lot about post-Reformation witchcraft history, as I have an ancestor who was burned at the stake as a heretic in the early stage of the British witchcraft hysteria, and I've just begun to teach a class on that time period. I also like to knit: what I lack in precision I make up for in enthusiasm!
Tell us one Christmas tradition you follow without fail.
Watching the delightfully festive live action film of Beatrix Potter's The Tailor of Gloucester, starring Ian Holm and dancers from the Royal Ballet School. This is a Christmas Eve ritual from my early childhood that I've been happy to resurrect in recent years.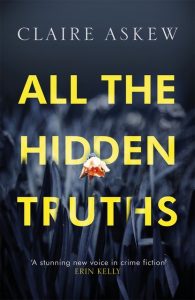 ---
For more introductions to authors of all genres, as well as behind-the-scenes exclusives join Clare's free book club . Clare's latest book, Let Me Lie, is out this month in paperback.