There is surely no tougher critic of a police procedural than an ex-cop, but Someone Else's Skin did not disappoint. Sarah Hilary's debut crime novel is meticulously researched, and the characters so brilliantly real I could have been reading about my former life.
What the back cover says:
Detective Inspector Marie Rome. Dependable; fierce; brilliant at her job; a rising star in the ranks. Everyone knows how Marnie fought to come back from the murder of her parents, but very few know what is going on below the surface. Because Marnie has secrets she won't share with anyone.
But then so does everyone. Certainly those in the women's shelter Marnie and Detective Sergeant Noah Jake visit on that fateful day. The day when they arrive to interview a resident, only to find one of the women's husbands, who shouldn't have been there, lying stabbed on the floor.
As Marnie and Noah investigate the crime further, events begin to spiral and the violence escalates. Everyone is keeping secrets, some for survival and some, they suspect, to disguise who they really are under their skin.
Now, if Marnie is going to find the truth she will have to face her own demons head on. Because the time has come for secrets to be revealed…
What I say:
I loved Marnie Rome, whose flaws are fascinatingly real, without the clichés found in so many literary detectives. She makes errors of judgement, separates her professional life from a messy personal one, and has more than enough baggage for Sarah Hilary to build a successful series around her. Marnie's sidekick is Noah Jake, and Sarah cleverly weaves in just enough hints about his life growing up, to make it imperative that we hear more of it in subsequent books.
The plot of Someone Else's Skin is intricate and cleverly constructed, with gasp-worthy twists and a pace which kept me awake far too long on a school-night. There are dark themes of domestic abuse and identity woven neatly into the lives of victims, witnesses and police, and Sarah's writing is evocative and sharply focused. A brilliant début.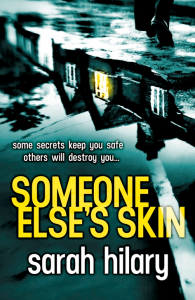 Someone Else's Skin, by Sarah Hilary, is published by Headline later this month.