Every day until Christmas Eve I'll be introducing you to an author whose debut novel came out this year. Today it's Lesley Kara.

About Lesley Kara
Lesley Kara is an alumna of the Faber Academy 'Writing a Novel' course. She lives on the North Essex coast. Her first novel is The Rumour.
Tell us about your book.
The Rumour is a psychological thriller set in a fictional seaside town. Joanna, a young mother, passes on some gossip she's heard about a child-killer from the 1960s living nearby under a new identity. Before long the rumour is on everyone's lips, causing paranoia and suspicion in the neighbourhood and putting Joanna and her son in grave danger.
Where did the inspiration come from?
Someone passed just such a rumour on to me once. It concerned a notorious figure who had once committed a terrible crime and who was now, allegedly, living as a protected person in a safe house in my neighbourhood. For a few days after hearing it, I found myself looking at people on the street a little more closely than usual. It made me realise how we never really know who our neighbours and acquaintances are.
Who would this book make the perfect present for?
This novel would make the perfect present for someone who enjoys reading and/or watching character-driven crime dramas or thrillers set in coastal communities, such as Broadchurch or Big Little Lies.
What will you be reading this Christmas?
On my non-fiction list will be Viv Groskop's How To Own The Room: Women and the Art of Brilliant Speaking and Michelle Obama's new memoir, Becoming. The novel I will be reading is Ruth Rendell's Dark Corners, the last one she wrote before she died. I've been putting it off because I can't bear the thought that once I've finished it, there won't be any more.
When you're not writing, what do you like doing?
Reading, obviously. But since I spend far too much time sitting down, I've started swimming regularly, which I love, and I've finally taught myself to do the front crawl after years of failing miserably. I also love gardening, walking by the sea, and cycling on my sit-up-and-beg bicycle – no speed or lycra involved!
Tell us one Christmas tradition you follow without fail.
I always buy one new Christmas tree decoration each year (although often this turns into many more, but this doesn't matter because as I tell my husband, we don't have to restrict ourselves to just one tree)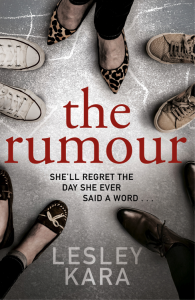 For more introductions to authors of all genres, as well as behind-the-scenes exclusives join Clare's free book club . Clare's latest book, Let Me Lie, is out this month in paperback.