Whether it's Stephen King's vitamin pills, Hemingway's dawn starts, or J K Rowling's café stints, we are endlessly fascinated by authors' lives. But what's it like living with a writer? I spoke to six long-suffering spouses to find out.
The partners
Tracy Mearns is a former bookstore manager, a ginger, the honourary wife of Denise Mina and a crap reality tv show enthusiast. She's married to Steve Cavanagh, author of the Eddie Flynn novels and a twisted standalone called… ermm Twisted.
Adrian Scottow is a technologist working in the financial service industry. He's married to Laura Shepherd-Robinson, author of Blood & Sugar.
Bob White is a landscape gardener and Brummie living in The Black Country. He's married to Miranda Dickinson, author of The Day We Meet Again.
Mo Dowdy hates her surname. She's a vertically challenged ex-cop living in the Tyne Valley with the Twitter handle of @notkatedaniels. She's the civil partner of Mari Hannah, author of the Kate Daniels, Ryan & O'Neil and Stone & Oliver crime series. Mari's latest title is The Scandal.
Sara Edwards is a Mum, yogi and former editor and digital marketer. She's married to Mark Edwards, author of what feels like a thousand books. Her personal favourites are The Retreat, What You Wish For and Here To Stay.
Chris Fenwick is the CEO of a tech start-up based in London. He's married to Liz Fenwick, author of seven novels plus a novella. The latest novel, being released in June, is The Path to the Sea, published by HQ.
---
What's it like living with a writer?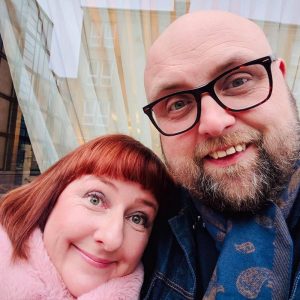 What stage of writing is the hardest for the partner of a writer, and why?
Tracy: The first draft, as Steve will be thinking about an idea, or because he does not plot and makes it up as he goes along, he will get stuck on a problem in a book and be deep in thought about how to get out of it. At those times he can just zone out and be in his own wee world with a furrowed forehead and a frown.
Adrian: Every stage is interesting, helping brainstorm plot ideas early on is fun but somehow none of my ideas every seem to make the cut. Sometimes we go on research trips together – like a walking tour of historic Deptford – I'm encouraging her to set her next book in the Bahamas. The edit is fun with Laura shouting things like 'what's another word for pugnacious?'
Bob: I think the stage she finds the hardest is the first edit. It's a bit like someone telling you your kids are ugly. You've handed your baby over to someone else and they give it back telling all the things that they don't like about it. I usually get the "I'm giving this all up and getting a job at Waitrose" speech at this point.
Mo: This is just between the two of us, right? Most of the swearing comes mid-book. That great idea she had is now pants. Mari calls it development. I call it hell on earth. It's when I stick the earphones in with the volume up on Spotify and remind myself not to sing along.
Sara: Mark has a pattern. One novel will just seem to fall out of him effortlessly, and in those cases the entire process is easy for me. I can just look forward to reading the first draft. However, such novels  will always be followed by a one that leaves him snappy, stressed and often, to put it politely, not entirely mentally present. In the case of the latter, the first draft is by far the hardest part for both of us.
Chris: Definitely the editing phase! Liz retreats into another world somewhere far, far away and communication becomes limited, even fraught at times. Shared responsibilities around the house quickly become unshared and I (and our two cats) have to fend for ourselves.
How do writers handle interruptions?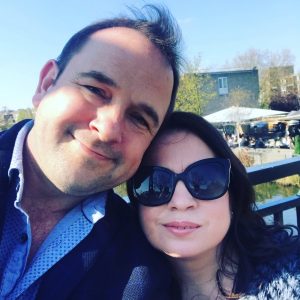 Tracy:
 Our whole house is a serious of interruptions, Steve doesn't have an office, he writes at our kitchen table. I'm pleased to announce however that he has now resigned from his day job of lawyering and will be able to write full-time when the kids are at school. He'll be going to the library however, no way will he be interrupting my busy schedule of cooking, cleaning  and <whispers> watching Jeremy Kyle and catching up on 90 Day Fiancée.
Adrian:
Not that well – if I am lucky a gentle slam of the door.
Bob: 
She's pretty good with interruptions they don't really bother her. But when she's on a roll you could set a firework off in the room and she wouldn't notice.
Mo: 
Have you seen Mari's eyes?
Sara:
That largely depends on if you have a coffee in hand and how much money the interruption will cost. Mark is generally very gracious and will often ask for a moment to finish a sentence or even a chapter.
Chris:
Depends at which stage of writing they're at, though generally badly if you mistime the question. I've developed a second sense as to when to, and when not to interrupt. The eyes normally give the clue.
How do writers procrastinate?
Tracy: Steve drinks coffee , goes on Twitter and walks our dog Lolly and records his podcast Two Crime Writers and a Microphone with Luca Veste, this is usually just a lot of giggling.
Adrian: Twitter, Facebook, holiday planning. I really know it has been bad if the laundry has been done.
Bob: Watch Netflix or saying "I'm not going to look at my social media" and then posting David Tennant GIFs anyway.
Mo: None of that in our house. Mari would have to look it up in the dictionary.
Sara: I don't think Mark procrastinates as much as many writers. Social media is the writer's downfall in my opinion. Mark is very driven. I think anyone who has written a book has an enviable amount of drive, so we can let you off a little procrastination.
Chris: Easy one. Social media, all day long. Facebook and Twitter – 'its research' or 'self-promotion'. Likely story…!
What should you absolutely not say to a writer?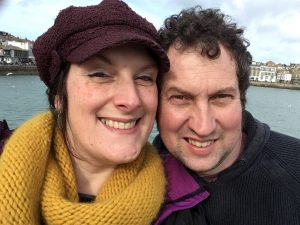 Tracy:
I've a great idea for a book about a reality TV star who gets murdered, you should watch TOWIE, The Bachelor, Made in Chelsea, Love Island, Bachelor in Paradise, The Circle, The real housewives of New York to get some inspiration for it.
Adrian:
 Top Three: "I read this really unfair review of your book on Goodreads", "The second draft seems to be taking quite a long time", "There is a minor typo on page 143"
Bob: 
Never say "are you nearly done yet" or "I've got a great idea for a story for you". Or the worst thing is people seem to think its okay to ask how much money you make.
Mo:
Only a fool would ask, 'Are you in?'
Sara:
 "Have you ever thought of having your books turned in to films?", "My uncle's friend/tennis coach's  hairdresser / goldfish wants to write a book. Can I put you in touch with them?", "The internet is down".
Chris:
 "Pay no attention to the reviews". The fact they've had one low rating out of a hundred on Goodreads (more often or not to do with the book cover which is down to the publisher), then their self-doubt sets in. I've dug that hole a few times and instantly wondered why I opened my mouth.
How many words do you think the writer in your life aims for a day? How many do you think they usually achieve?
Tracy: Oh goodness no clue about this. Maybe 1000? I often send him off to a writing retreat called The River Mill for a weekend of uninterrupted writing and he can achieve between 10000 and 15000 words over that time.
Adrian: Depends on which part of the writing process – at the moment Laura is aiming for a chapter a day which is around 2,000 words – but some are quicker and easier than others.  I think she normally reaches her target.
Bob: I reckon she aims for around 1,500 words a day. I know she can vary greatly in her daily output. She writes more at weekends and sometimes, close to deadline, I'll only see her when I bring up her meals and drinks. Then she can write 10,000 words a day.
Mo: Aims for 3K, writes one. Deletes. Starts again. Repeat. Drives me mad.
Sara: Mark has always aimed for 2000 words and 99% of the time he manages that or more. I would say 1800-3000 on average.
Chris: I've come to realise the writing phase is actually highly condensed, squeezed into a small zone between research and edits. My guess would be Liz aims for 5000 words in a day when in that zone. In reality? Probably 3000. Depends if I'm at home or not!
What do writers wear?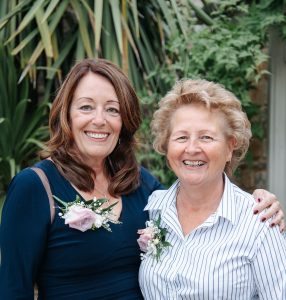 Tracy:
 Kimono or smoking jacket with silk pyjamas.
Adrian:
 Loungewear – which is a wonderful term that covers all sorts of comfy clothing
Bob:
 My writer mostly wears slippers and is never without blankets over her knees. She also loves a good hat.
Mo:
No jimjams for Mari. Full slap on, business suit, clean shirt every day, bulled six-inch heels that match the polished grapes on her desk. 😉
Sara: Whatever isn't festering in the laundry baskets I never manage to get to the bottom of. Jeans and a t-shirt.
Adrian:
PJ's or sweats.
What do writers do when they go to literary festivals?
Tracy: Get drunk and throw people into bushes.
Adrian: Drink, smoke, gossip, Karaoke and generally "network"
Bob: Not a clue. They're a mystery to me like the Bermuda Triangle. I think she mostly has a jolly with her mates.
Mo: Drink gin, hang out, pretend they're working.
Sara: Drink too much. Connect with other writers. Compare themselves to other writers. Inspire each other. I think I heard something about karaoke?
Chris: Gush and self-promote, sometimes to cringeworthy levels (still embarrasses our grown up children). A totally different character. Oh, and drink a lot. Gin normally.
What's the best thing you can say to a writer?
Tracy: I love your book, this is your best yet. I believe in you.
Adrian: I love your book and can't wait for the next one.
Bob: I find it's best to listen and then offer advice if I'm asked. Hugs and reassurance are a must – when someone's spent a lot of time in their own head sometimes they just need a hug.
Mo: 'Press send.' It's also the worst thing you can say to a writer! I usually duck before it's out of my mouth.
Sara: 'I'm taking the kids away for a week…' More seriously I think any genuine and considered response to their writing shows thoughtfulness and pride.
Chris: It's more about action than words. Reading the book and being totally absorbed by it solicits the best reaction. Life is then good again (until work starts on the next one).
What happens if a writer is prevented from writing, for some reason?
Tracy: Steve would get really stressed out and snappy because he would be worrying about his deadline. If this happens I book him into the River Mill or take the kids away for the weekend to leave him in peace to crack on.
Adrian: The words all start building up inside until they erupt like a volcano.
Bob: Withdrawal symptoms. She gets fidgety and can't settle till she's written something, so she'll work through the night to make up.
Mo: If it's her mum asking for custard creams, I field all calls. Otherwise, I step in and get rid of rent-a crowd/ the gas man/ the postie/ the guy next door . . .
Sara: What Mark likes to call 'mental constipation' and a lot of far-away-looks.
Chris: Like breaking their writing wrist? Lie low.
How do writers celebrate publication day?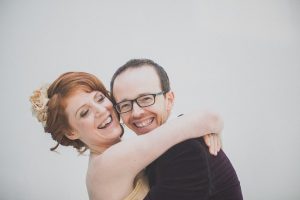 Tracy:
 On the very first publication day, I booked us into a swanky 5 star hotel complete with champagne. Nowadays, we get chips from the takeaway and watch something on Netflix.
Adrian:
 Drink, smoke, gossip and go mad
Bob:
We tend to go out as a family for a meal, then at the next possible chance (fitting in with the school holidays) we'll go off to Cornwall.
Mo:
On social media. Don't be fooled by the clinking champagne flute imojis and upbeat tweets. That's all bollocks. We have more unopened bottles of fizz in our house than a winery in the South of France.
Sara: Mark's done it so many times I am guilty of not helping him do much to celebrate. They spend a lot of time on social media. Mark has an online party for his readers and drinks some bubbly.
Chris:
Champagne (and gin).
Why should we read your partner's books?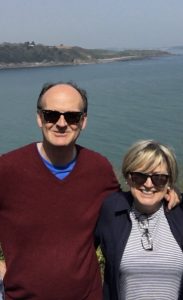 Tracy:
 If you like a thrill-a-minute, short moreish chapters, a book you cannot put down… Steve's books are for you.
Adrian:
 Laura's books will transport you to Georgian England, where you will meet fascinating characters, experience dark deeds, and never stop guessing whodunnit and why.
Bob: 
Firstly, because we need new windows! But seriously, Miranda has a way of capturing a place and making it feel real, and she brings even the smallest incidental characters to life so you always want to find out more.
Mo:
Because they're fabulous. I do the hard work. Mari just types it up. 🙂
Sara: I think Mark's writing is unique because he has a very individual way of looking at the world. A certain sensitivity. When you couple that with the concept of putting ordinary people in terrifying, yet everyday, situations you end up with novels that can chill even the hardest horror fans to the core. I am incredibly proud of him.
Chris:
Do you love Cornwall?
---
So that's what it's like living with a writer…
Thank you so much to Tracy, Adrian, Bob, Mo, Sara and Chris for taking the time to spill the beans on life as the partner of a writer, and thank you to anyone out there who tiptoes around the author in their life and makes it possible for them to write.
If you like the sound of any of the books mentioned above, you can find them at a variety of bookshops, including Waterstones, below:
Twisted, by Steve Cavanagh
Blood & Sugar, by Laura Shepherd Robinson
The Day we Meet Again, by Miranda Dickinson
The Scandal, by Mari Hannah
The Retreat, by Mark Edwards
The Path to the Sea, by Liz Fenwick
---
And if you'd like to pre-order my new book, After the End, Waterstones have a very beautiful signed edition with blue sprayed edges available here.