If you're within a day's travel of Oxford and haven't yet visited The Story Museum, you're missing out. The museum is a hidden gem in this beautiful city, and 26 Characters is far and away the most exciting, inspiring and thought-provoking exhibition I've ever seen.
The exhibition takes 26 well known children's authors and creates a stage set around their favourite children's book characters. Each room or area is different, and each one is thoroughly engaging. I took my three children, aged seven, six and six, and we spent a happy two hours there before I reluctantly dragged them away to meet Nana for lunch. Firm favourites were the Borrowers, whose deliciously miniature room is recreated for you to peek at, and The Lion, The Witch, and The Wardrobe – a room we dropped in on three times during our visit. Opening the wardrobe and pushing my way through the fur coats that hung there, I was instantly transported to the first time I read what was to become one of my favourite childhood books. The crunch of snow underfoot; the glint of a lamppost between the trees… there we were, in Narnia.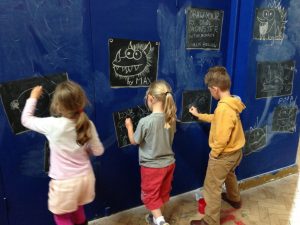 Each exhibit carries a photograph of the relevant children's author, dressed up as their character. Children's Laureate Malorie Blackman makes an astonishingly good Wicked Witch of the West, and Terry Pratchett's beard adds a charming element to Just William. I sat in the Outlaw's shed and hugged my knees as I listened to tales of William and his friends. As a child I saved my pocket money to buy each book in the series, finishing only when I was at university. The complete set, dog-eared and well-read, now sits on my son's book case and represents a love of reading I am overjoyed to now see in my own children.


There are lots of museums that promise 'interactive' exhibits, and I find they often fail to deliver; offering little more than a quiz sheet or treasure hunt to truly engage their younger visitors. 26 Characters doesn't simply invite participation: it positively demands it, pulling you into each story until you are standing within the pages. There are opportunities to write your own stories, create art, dress up and add to the online photo gallery, and much much more. We lingered happily in the dressing up room, trying on countless costumes and walking solemnly up the red carpet to be presented by The Talking Throne. Take a look at the clip below to see this in action!
You'll find more details about 26 Characters, including a stunning visual download, on The Story Museum website. The exhibition runs until 2 November 2014 so you have plenty of time to organise a visit. You won't be disappointed.